Sister Ignatia Gavin and A.A.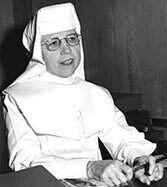 Sister Ignatia Gavin, a tiny Irish-American nun, helped initiate medical treatment for alcoholics in Akron. Born in 1889, Sister Ignatia entered the community of the Sisters of Charity of St. Augustine in 1914. A trained and talented musician, she first taught music until she suffered a complete breakdown. To protect her health, she was reassigned to St. Thomas Hospital in Akron. In 1928, she became an admissions officer.
Dr. Bob S., who founded Alcoholics Anonymous with Bill W. in 1935, had been treating alcoholics for years and often tried to get his patients admitted to Akron hospitals, especially when they were undergoing withdrawal and needed medical care. At the time, alcoholism was considered a moral failing, not a disease, so hospitals usually refused. Dr. Bob S. had struck up a friendship with Sister Ignatia and began asking her to admit his patients. Although against regulations, she admitted them, usually by claiming they had "acute gastritis." She placed them wherever room was available and where they would be out of the way, going so far as to place them in the "flower room," where the bodies of deceased patients were kept while awaiting transferral to the morgue. Eventually, the two obtained permission to open the first hospital ward ever for alcoholics at St. Thomas. Dr. Bob attended to their physical needs, and Sister Ignatia and members of Alcoholics Anonymous to their spiritual needs.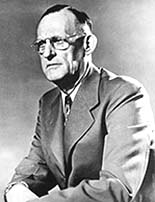 In 1952, Sister Ignatia was transferred to St. Vincent Charity Hospital in Cleveland, where she set up a new alcoholism ward, Rosary Hall. Patients were admitted for six days, where they received constant help from Sister Ignatia and various AA members. It is estimated that during her career, Sister Ignatia helped over 10,000 alcoholics. She was mourned throughout the nation when she died in 1966.
St. Thomas Hospital, Akron, Ohio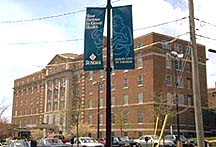 In the 1920s a Clevelander left a bequest to establish a Catholic hospital in Akron. From 1922 to 1928, additional money was raised and a site selected. St. Thomas Hospital was built in 1928, and staffed by the Sisters of Charity of St. Augustine. Like other Catholic hospitals in the Diocese, St. Thomas was an innovator.
In 1939 it opened the first alcoholic ward in the country under the direction of Sister Ignatia Gavin and Dr. Bob S., one of the co-founders of Alcoholics Anonymous. The hospital grew steadily through the 1950s, 60s, and 70s, as new buildings and departments were added to better serve the citizens of Akron. In the 1980s, an independent board took over control of St. Thomas and it ceased to function as a Catholic hospital. In the mid 1990s, St. Thomas merged with Akron City Hospital to form Summa Health System.