Sister Ignatia's Message Inspires
Akron woman treasures book that belonged to late father;
A.A. figure signed it in 1947
By Jim Carney
Beacon Journal staff writer
Dee Sims Butler carefully opens the cover of the tiny book and points to a handwritten inscription.
It's dated March 9, 1947. The book is The Following of Christ in Four Books by Thomas A. Kempis.
"To Mr. Tolliver. May God bless you and yours always. May He keep you ever close to His Sacred Heart."
On the opposite page are these words: "Please say a little prayer for me."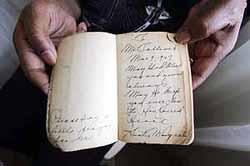 Dee Sims Butler of Akron holds her father William Tolliver's book which Sister Ignatia signed in March 1947.
The book was signed by Sister Ignatia and given to Butler's father, William Tolliver, an early African-American member of Alcoholics Anonymous.
Sister Ignatia was a key figure in the history of A.A., founded in Akron in 1935 by Akron physician Robert Smith and New York stockbroker Bill Wilson.
Sister Ignatia worked with Smith in 1939 to set up the world's first alcoholic ward at Akron's St. Thomas Hospital.
And Tolliver worked with Sister Ignatia to integrate Ignatia Hall, the alcohol treatment ward at the hospital, said Butler, 78, of Akron, and her sister, Lucimarian Roberts, 82, of Biloxi, Miss.
This weekend, 10,000 to 14,000 A.A. members will converge on Akron for Founders Day to commemorate the organization's beginnings. A.A. has more than 2 million members who gather periodically at more than 105,000 meetings.
Tolliver was born in West Virginia in 1897. He was an alcoholic when he moved to Akron around 1920, Butler said, and drank every day when she was growing up.
In West Virginia, she said, "he drove a rum wagon from county to county, and to keep warm, they would drink rum."
In Akron, he ran the T & S Pure Oil Service Station on South Arlington Street.
Following his own experience with A.A., Tolliver took an alcoholic friend to St. Thomas. With the help of Sister Ignatia, Tolliver's friend was admitted to the alcohol ward.
Sister Ignatia was born Bridget Della Mary Gavin in Ireland in 1889 and moved to Cleveland with her family in 1896, according to Sister Ignatia: Angel of Alcoholics Anonymous by Fairlawn resident Mary C. Darrah.
A Sisters of Charity of St. Augustine nun, Sister Ignatia arrived at St. Thomas Hospital in 1928. She left St. Thomas in 1952 for Cleveland, where she founded Rosary Hall, an alcohol treatment facility at St. Vincent Charity Hospital.
She died in 1966.
A new Sister Ignatia Heritage Center will open inside the Chapel at St. Thomas Hospital over Founders Day weekend.
Earlier this year, a section of East 22nd Street in Cleveland was given a secondary name of Sister Ignatia Way on the 40th anniversary of her death.
Tolliver died in Akron in 1978 at the age of 80.
Both Dani McCann, a public relations planner for Summa Health System, and Gail L., Akron A.A. archivist, said they really can't assess what role Tolliver had in integrating Ignatia Hall because so much of A.A.'s history is verbal.
Lonnie B., a 79-year-old Akronite with nearly 50 years of sobriety, who was helped in A.A. by Tolliver, said it made sense to him that Tolliver would have been involved in such an effort with Sister Ignatia.
Roberts, a retired social worker, teacher, and counselor said that when her father stopped drinking and got involved in A.A., "his whole outlook on life was so different…. It was a remarkable thing."
Butler, a retired nursing clerical supervisor and licensed practical nurse from Akron Children's Hospital, said her father spent countless hours talking to those in treatment at St. Thomas.
Tolliver always kept the little book given to him by Sister Ignatia near him, in his briefcase. Now that book and the woman who gave it to him continue to inspire Butler.
"There is no doubt that Sister Ignatia gave the most support to A.A. here in Akron," she said. "She was the most beautiful person. When she smiled, the whole place just lit up."