Welcome to silkworth.net
Here you will experience much historical and related information on the subject of Alcoholics Anonymous and Alcoholics Anonymous history. Officially begun on December 12th, 2000, silkworth.net is now in its eighteenth year and is one of the largest sites of its type in the World - a repository, archive, you might say, of Alcoholics Anonymous History and related information.
There is still so much more work to be done on silkworth.net that I expect to be working on silkworth.net the rest of my life. Alcoholics Anonymous saved my life from certain death! There are Thousands of pages of information here and the site will continue to grow. It is hoped that your visit here will continue to be helpful to you and more importantly, be helpful to the new member of the Fellowship and the new visitors to silkworth.net.
Yours in service,
Warmest regards,
Jim M. (Founder)
AA Literature
Alcoholics Anonymous is a fellowship of men and women who share their experience, strength and hope with each other that they may solve their common problem and help others to recover from alcoholism. More...
---
Do we want more of what brought us to AA ...
We were having trouble with personal relationships, we couldn't control our emotional natures, we were a prey to misery and depression, we couldn't make a living, we had a feeling of uselessness, we were full of fear, we were unhappy, we couldn't seem to be of real help to other people—was not a basic solution of these bedevilments more important ... ?
2nd, 3rd, and 4th edition Big Book page 52
... or do we want what practicing the principles of AA promises?
If we are painstaking about this phase of our development, we will be amazed before we are half way through.
We are going to know a new freedom and a new happiness.
We will not regret the past nor wish to shut the door on it.
We will comprehend the word serenity and we will know peace.
No matter how far down the scale we have gone, we will see how our experience can benefit others.
That feeling of uselessness and self pity will disappear.
We will lose interest in selfish things and gain interest in our fellows.
Self-seeking will slip away.
Our whole attitude and outlook upon life will change.
Fear of people and of economic insecurity will leave us.
We will intuitively know how to handle situations which used to baffle us.
We will suddenly realize that God is doing for us what we could not do for ourselves.
Are these extravagant promises? We think not. They are being fulfilled among us—sometimes quickly, sometimes slowly. They will always materialize if we work for them.
2nd, 3rd, and 4th edition Big Book page 83 & 84
AA Prayers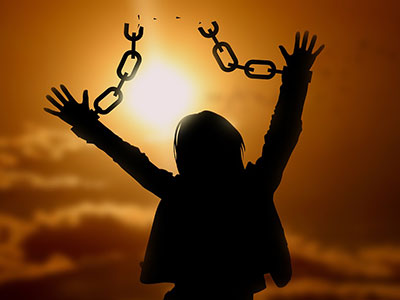 "God, I offer myself to Thee—to build with me and to do with me as Thou wilt. Relieve me of the bondage of self, that I may better do Thy will. Take away my difficulties, that victory over them may bear witness to those I would help of Thy Power, Thy Love, and Thy Way of life. May I do Thy will always!"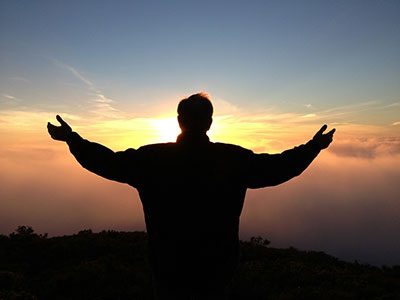 My Creator,
I am now willing that You should have all of me, good and bad. I pray that You now remove from me every single defect of character which stands in the way of my usefulness to You and my fellows. Grant me strength, as I go out from here, to do Your bidding. Amen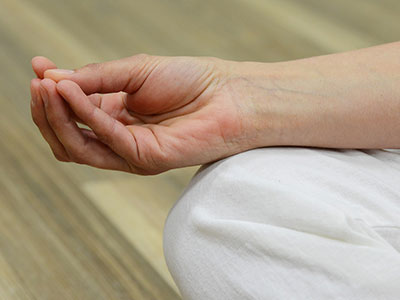 God, grant me the Serenity,
to accept the things I can not change,
Courage to change the things I can,
and Wisdom to know the difference.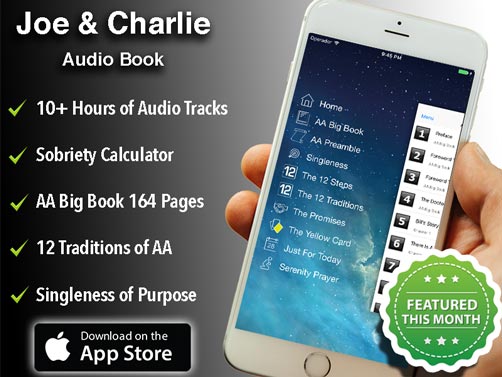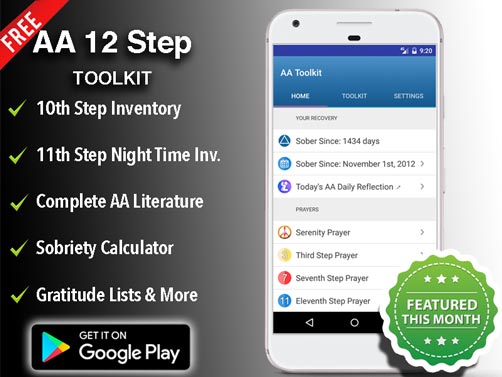 This if the only free AA app you will need to work your 12 step program. This app includes 10th step inventory, 11th Step night time inventory and lots of other features. It also a feature to create gratitude lists besides the free Sobriety Calculator.